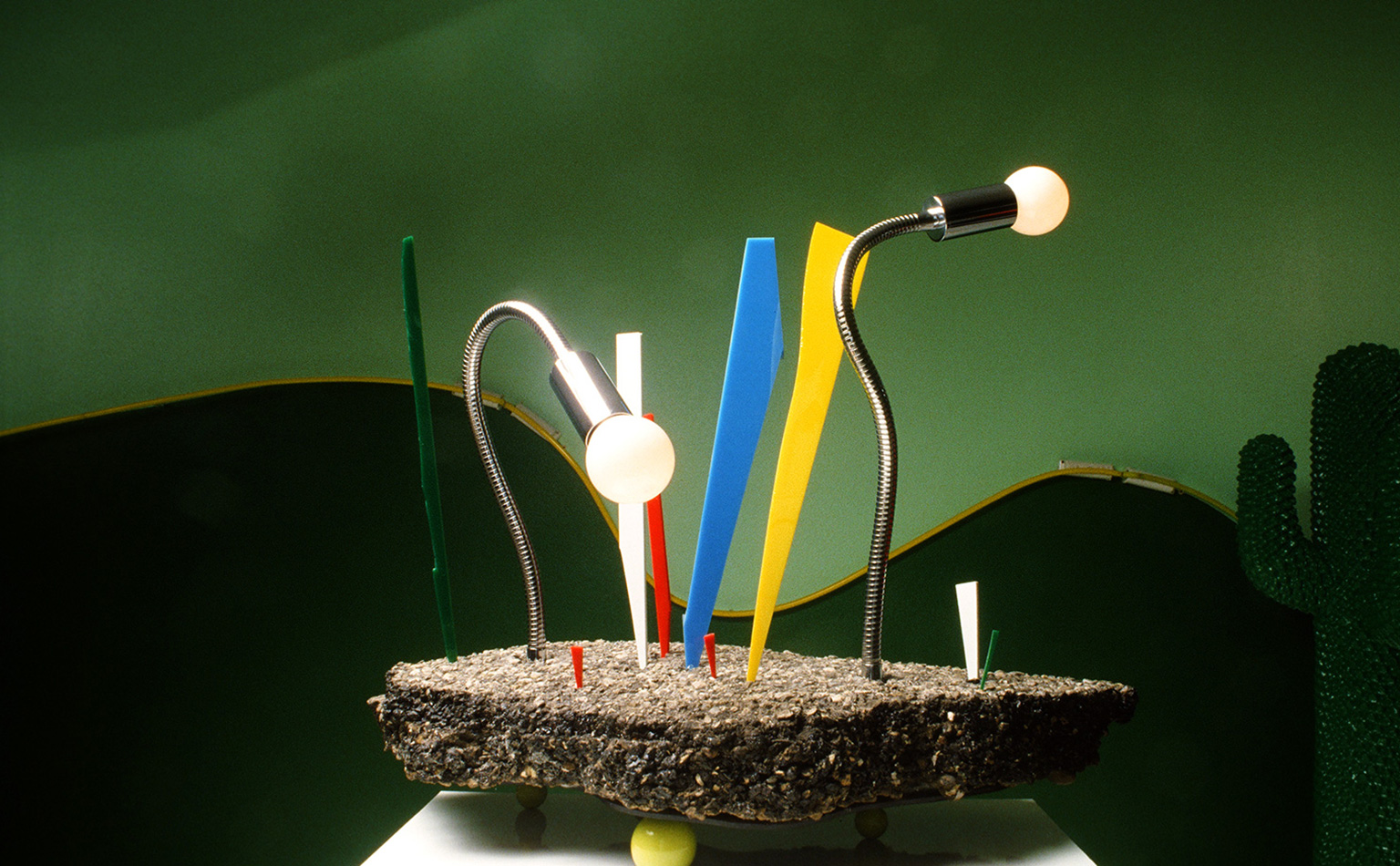 THE "ASPHALTROMANTIK" LIGHTING OBJECT FROM EL SCHMID IS AN EXTREME EXAMPLE OF THE SPIRIT OF OPTIMISM AND CHANGE THAT WAS FELT THROUGHOUT THE DESIGN WORLD IN THE EIGHTIES. THE FOLLOWING QUOTE FROM S&S WAS PUBLISHED IN THE "MODE UND WOHNEN" MAGAZINE IN 1982: "WE WANT TO LEAVE CONVENTION BEHIND WITH OUR WORK AND DEMONSTRATE CREATIVE FREEDOM".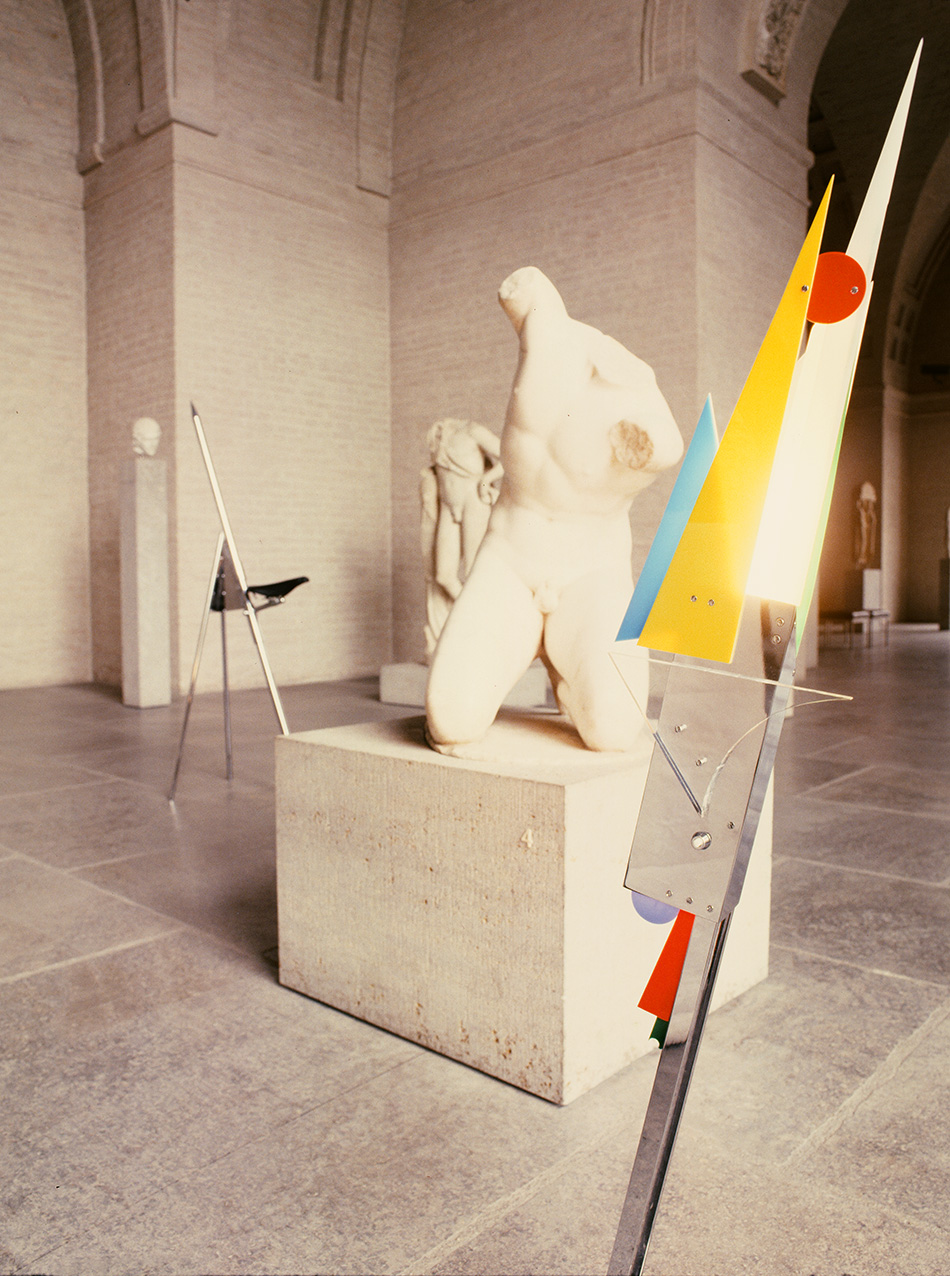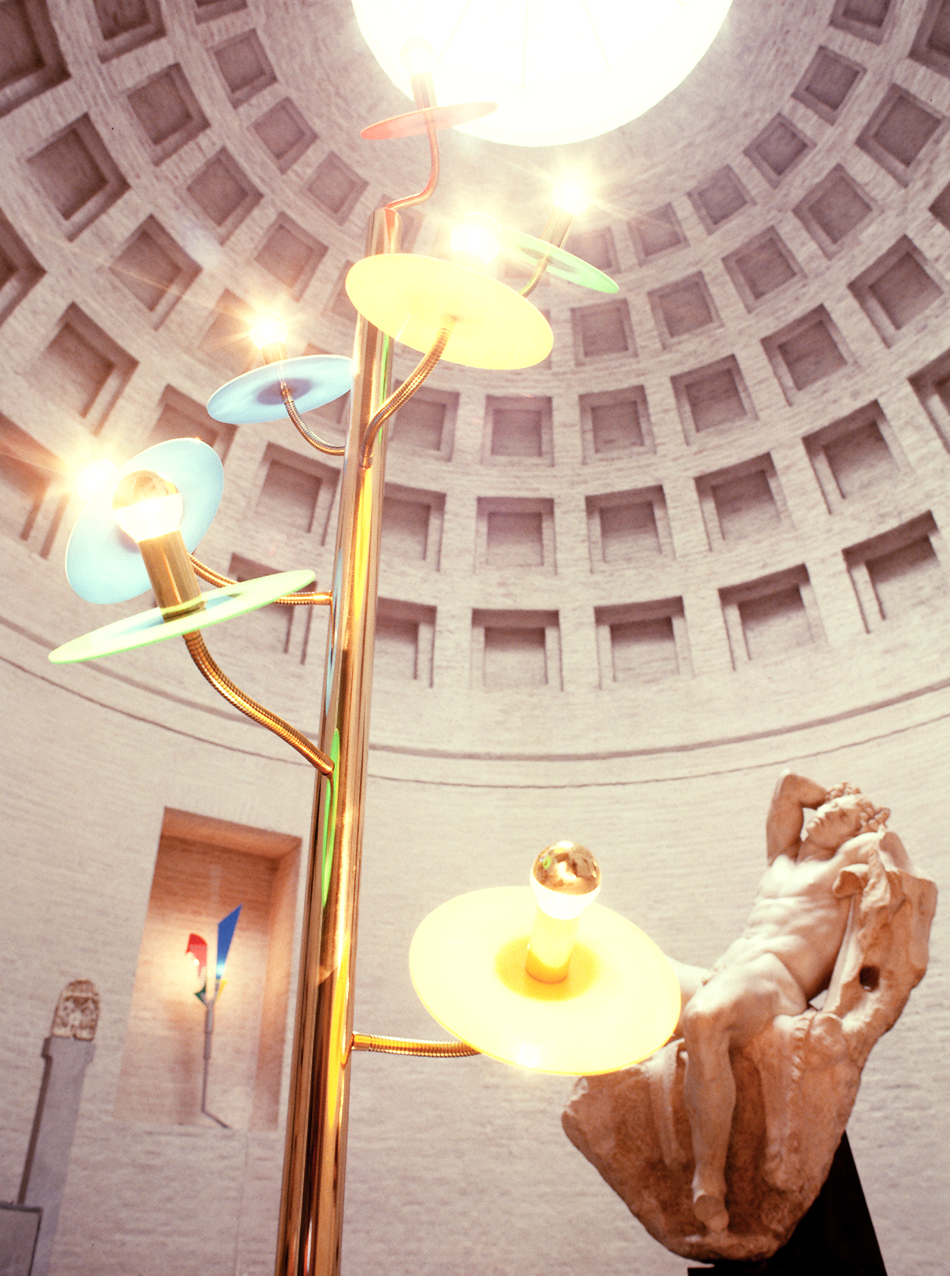 IN 1981, SCHMID&STEMMANN BEGAN WORKING FEVERISHLY IN THEIR WORKSHOP AND CREATED SOMETHING GENUINELY NEW. HIGH STANDARDS OF QUALITY AND PLAYFUL INSPIRATIONS LED TO THE CREATION OF COLLAGES OF EMOTION, SUCH AS THE LIGHTING OBJECTS "NIKITA" AND "JOHN F". AS SOURCE MATERIAL THEY USED WASTE PIECES FROM THE WORKSHOP'S MORE CONVENTIONAL COMMISSIONS FOR MOËT CHANDON, THE KREMLIN IN MOSCOW OR THE JOINT BANKING CENTRE IN KUWAIT.
THE "BAUM" AND "SCHWERTLILIE" ARE OBJECTS INSPIRED BY NATURE AND MADE FROM POLISHED BRASS, OR HIGH-GLOSS, CHROMIUM-PLATED NICKEL AND COMBINED WITH COLOURED ACRYLIC GLASS.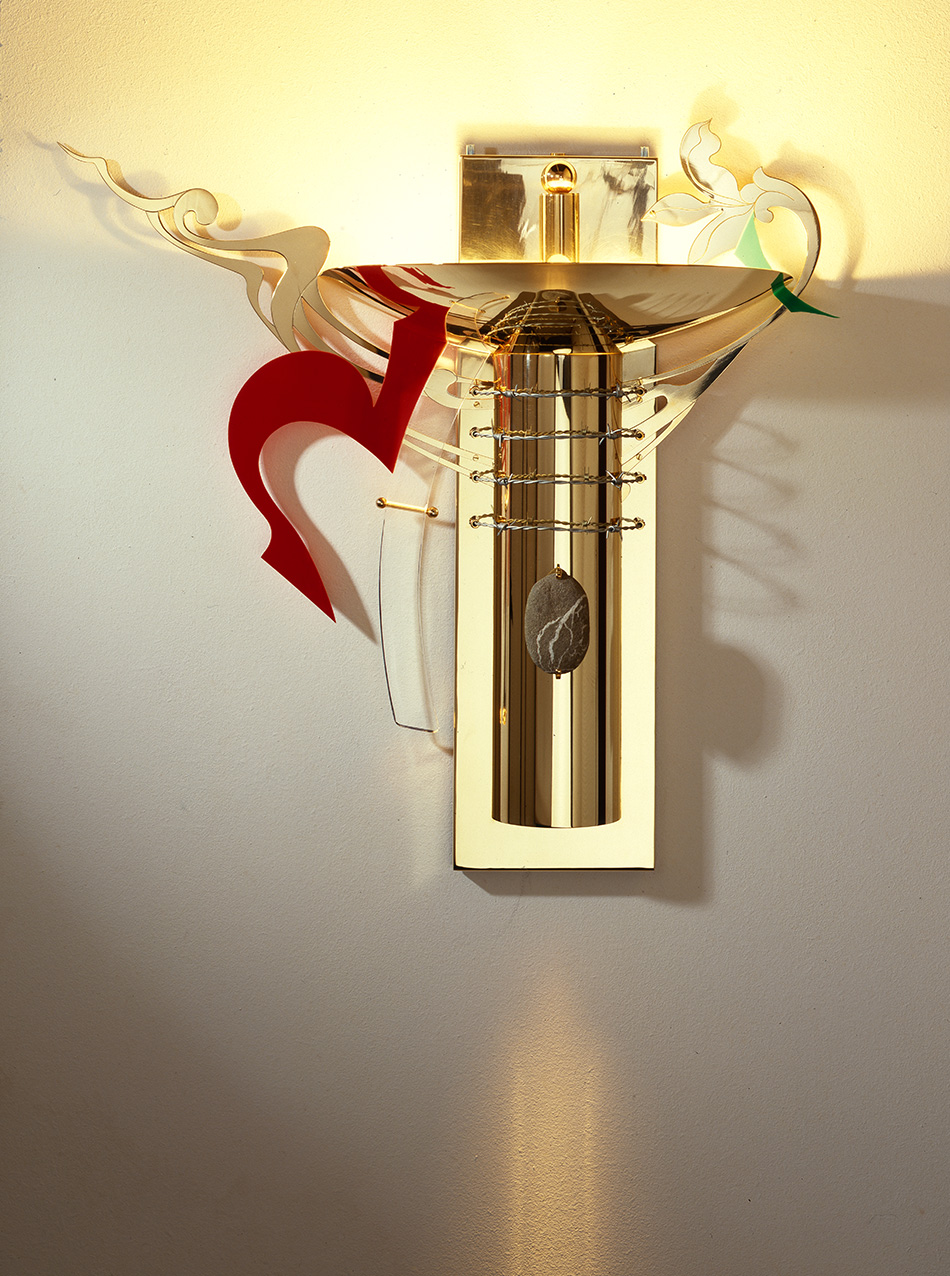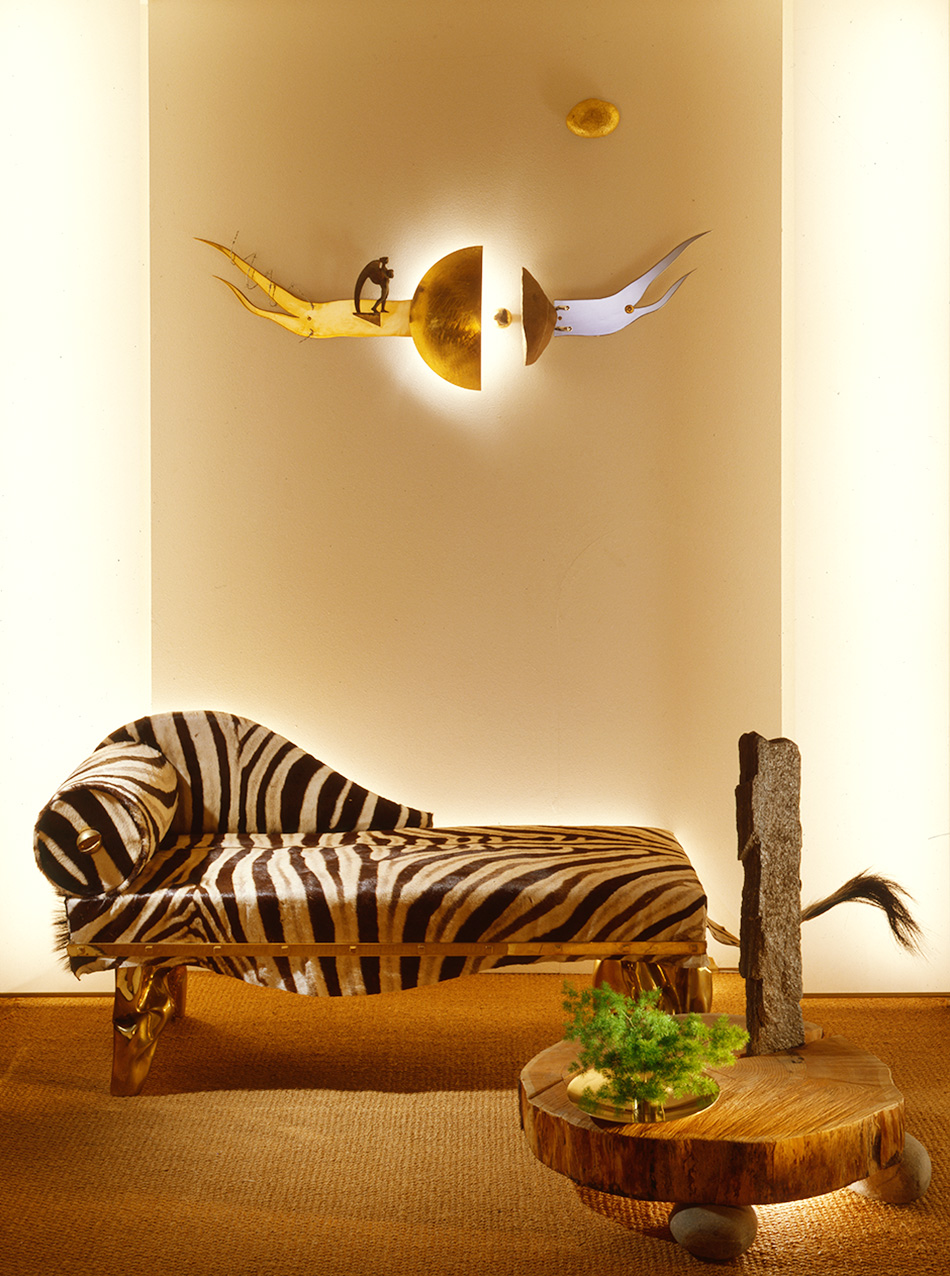 THE NEO-BAROQUE APPLIQUÉ "DELHY" IS BASED ON A CLASSIC WALL LAMP. IT IS ENCIRCLED BY AN ART NOUVEAU ORNAMENT, COMBINED WITH A CLOTHES HANGER AND OTHER LEFTOVER PIECES OF ACRYLIC GLASS. THE WALL OBJECT IS ALSO ADORNED WITH BARBED WIRE AND A STONE SET LIKE A DIAMOND.
1985 "CHAISELONGUE SAUVAGE" – A SYNTHESIS OF TWO AFRICAN MATERIALS, ZEBRA FUR AND BRASS, SURROUNDED BY THE ARCHAIC "KELTENTISCH" AND THE MYSTICAL WALL OBJECT "DAS AUGE".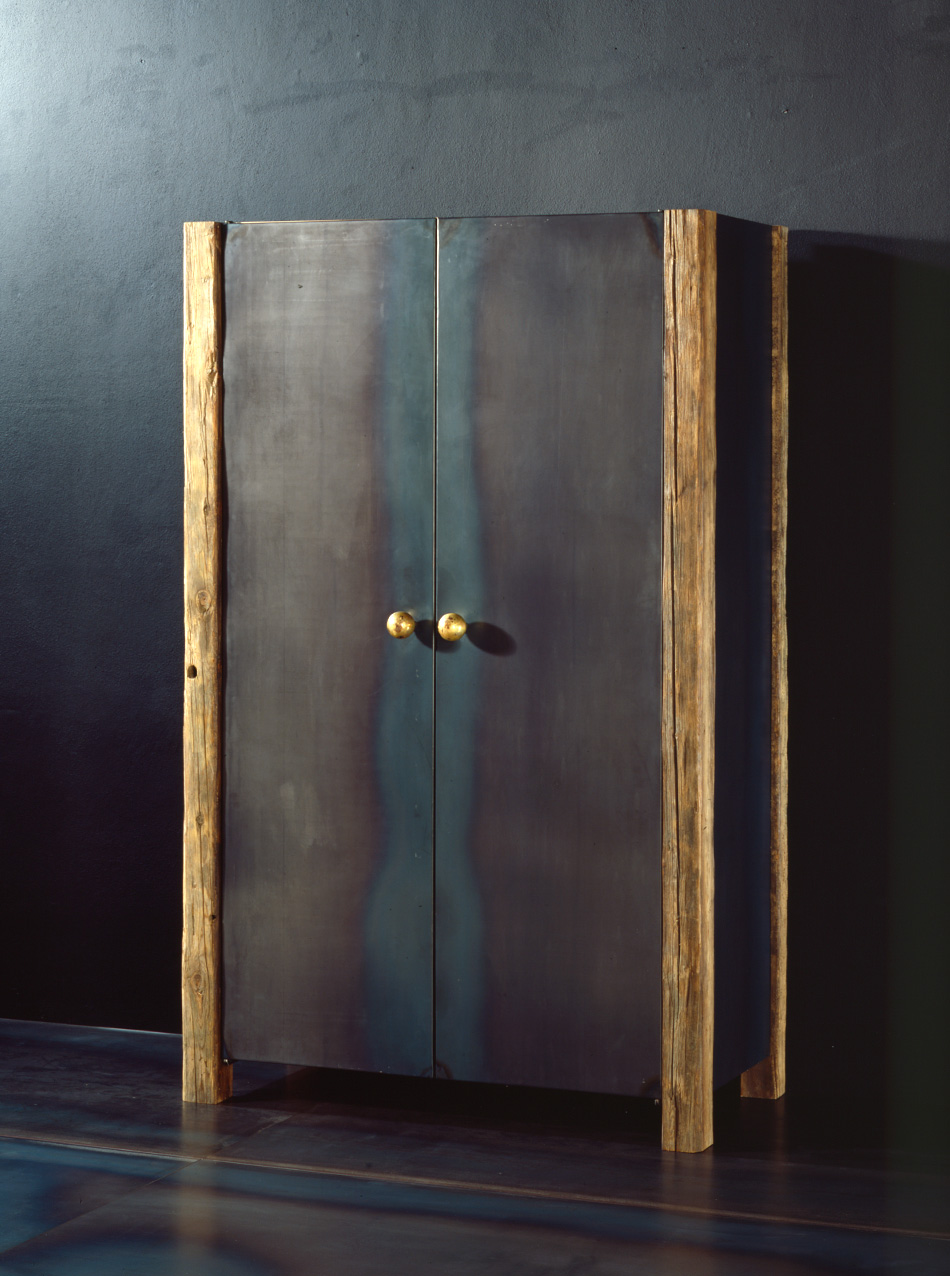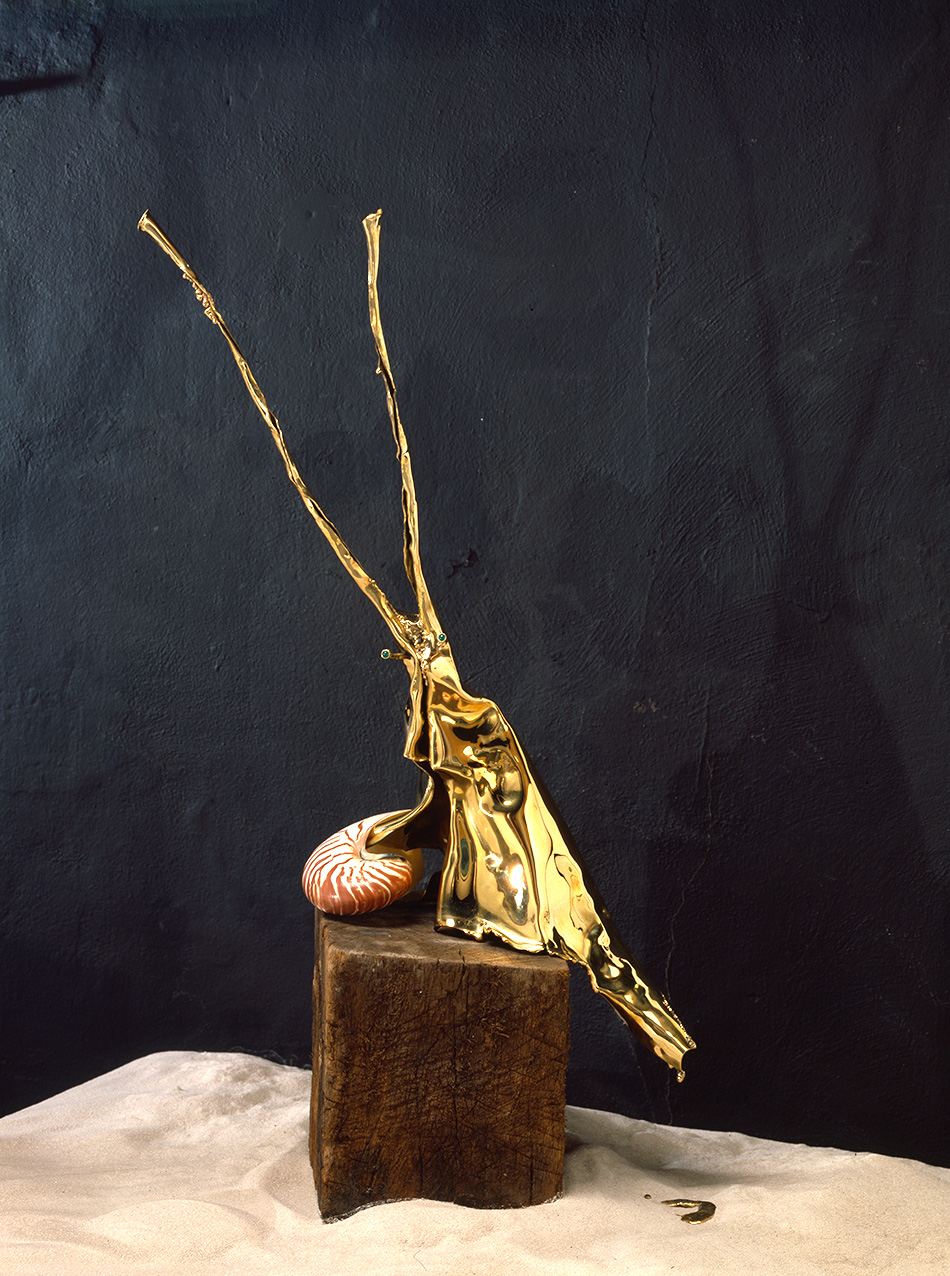 "DER SCHRANK" (THE CABINET) IS MADE FROM OLD WOOD, SPECIALLY SELECTED BLACK PLATE METAL AND BRASS DOOR HANDLES.
THE DIFFERENT MATERIALS COMBINE TO MAKE A PIECE OF FURNITURE WITH A UNIQUE STYLE THAT IS ABOVE TRENDS OR FASHION.
SCHMID&STEMMANN WERE PASSIONATE ABOUT PLAYING WITH FIRE – THEY DEVELOPED AND PERFECTED THEIR OWN "FIRE-FORMING" TECHNIQUE.
"DIE SCHNECKE" WAS FORMED FROM A PIECE OF STILL-HOT BRASS AND THEN POLISHED. WITH ITS EYES MADE FROM GREEN, SEMI-PRECIOUS STONES, AND LONG FEELERS, IT LOOKS AT THE VIEWER WITH CURIOSITY.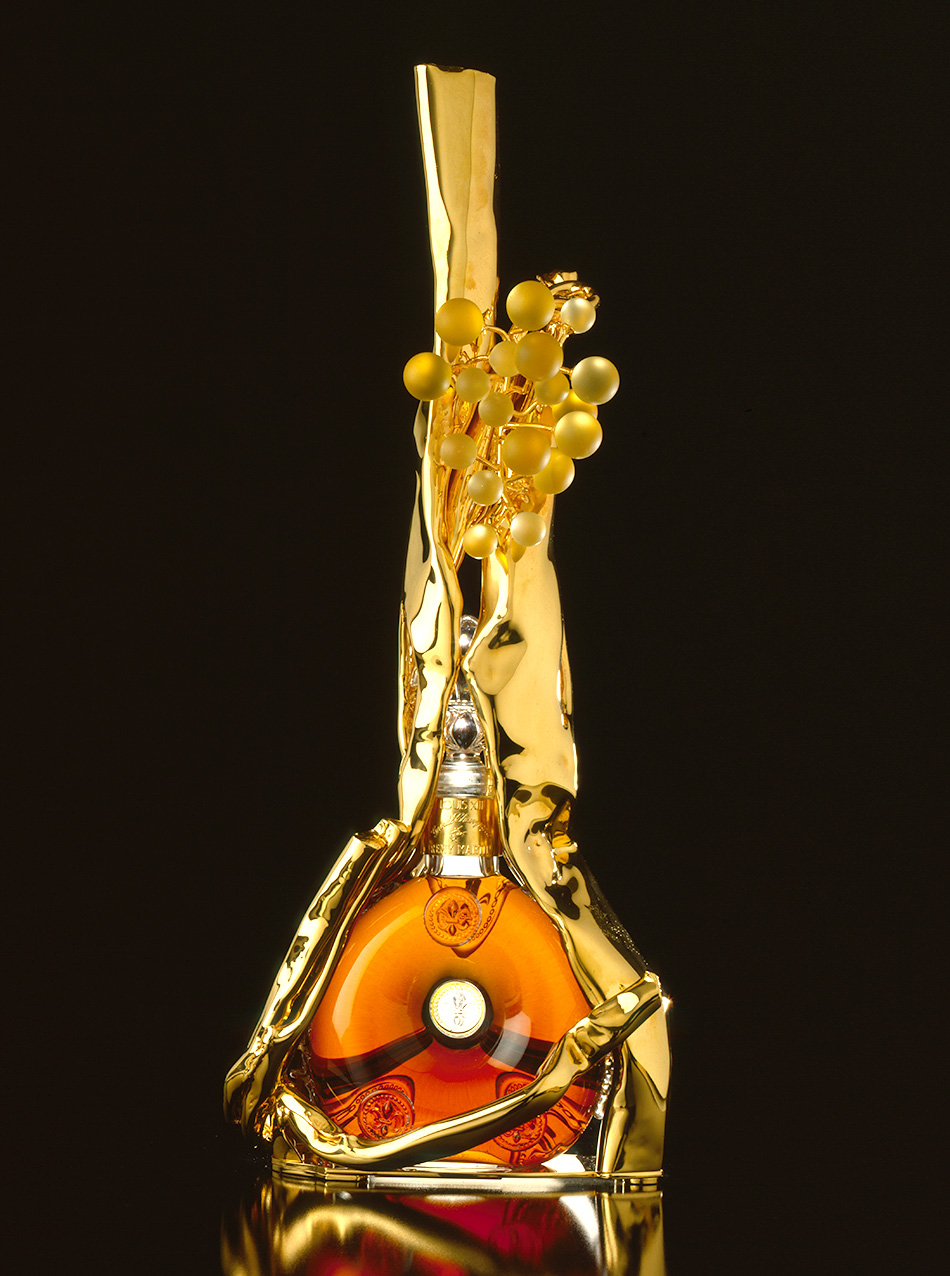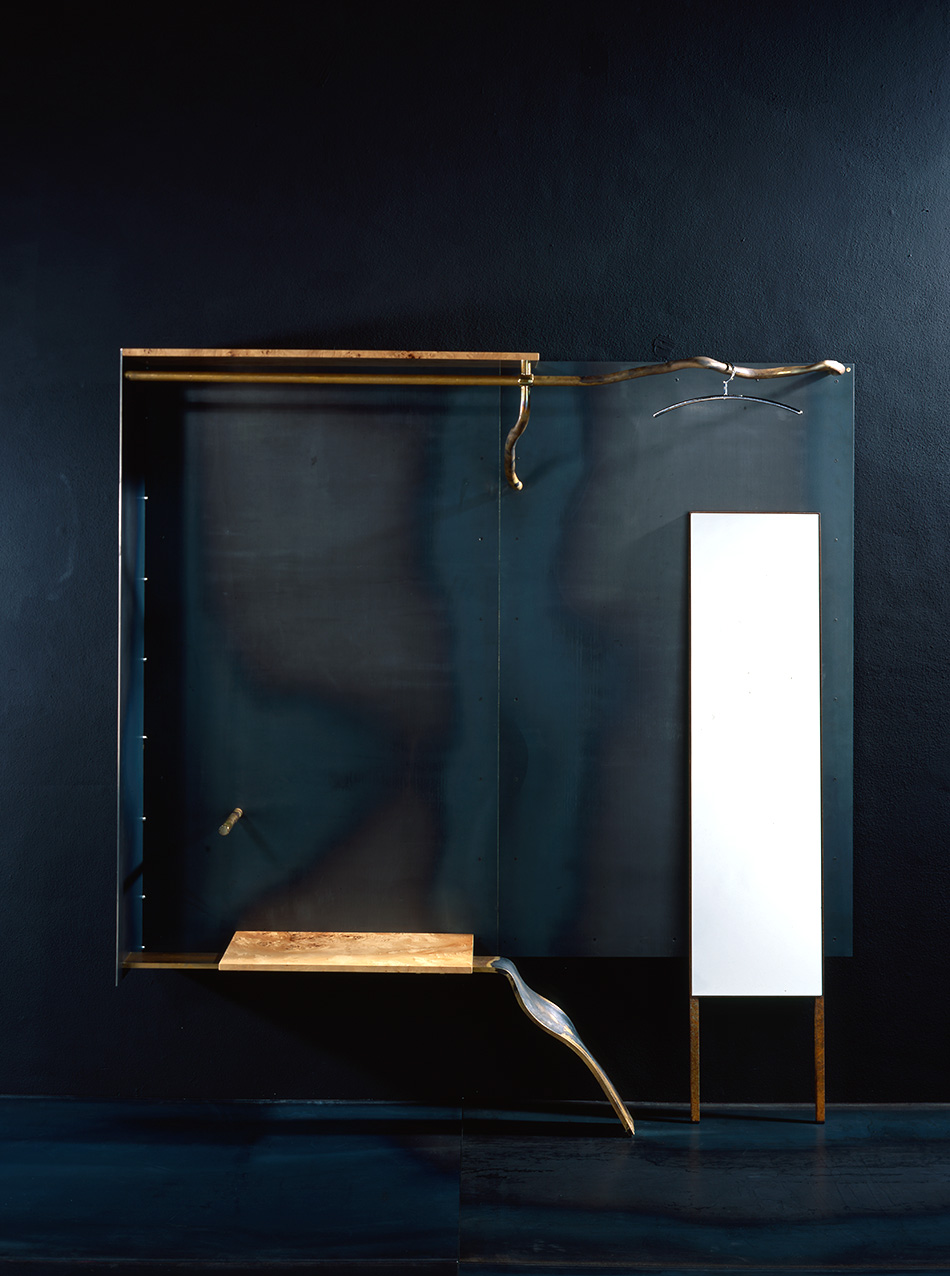 "PLAYBOY" MAGAZINE ASKED THEM TO DESIGN AND PRODUCE THE "MAN OF THE YEAR" TROPHY. THE GOLD-PLATED TROPHY WAS SPONSORED BY RÉMY MARTIN. THE WINNER WAS TO BE PRESENTED WITH A BOTTLE OF "LUIS XIII" PREMIUM COGNAC. EL SCHMID INTEGRATED THE BOTTLE WITH THE FINE FABRIC INSIDE THE TROPHY. A HANDLE ALLOWS THE BOTTOM OF THE TROPHY TO BE ROTATED SO THAT THE BOTTLE CAN BE REMOVED.
MINIMALISM AND NATURALISM COME TOGETHER IN THIS WARDROBE MADE OF SELECTED HOT-ROLLED IRON SHEET, FIRE-FORMED BRASS AND ROOT WOOD, IN A HARMONIC BALANCE OF FORM AND MATERIAL.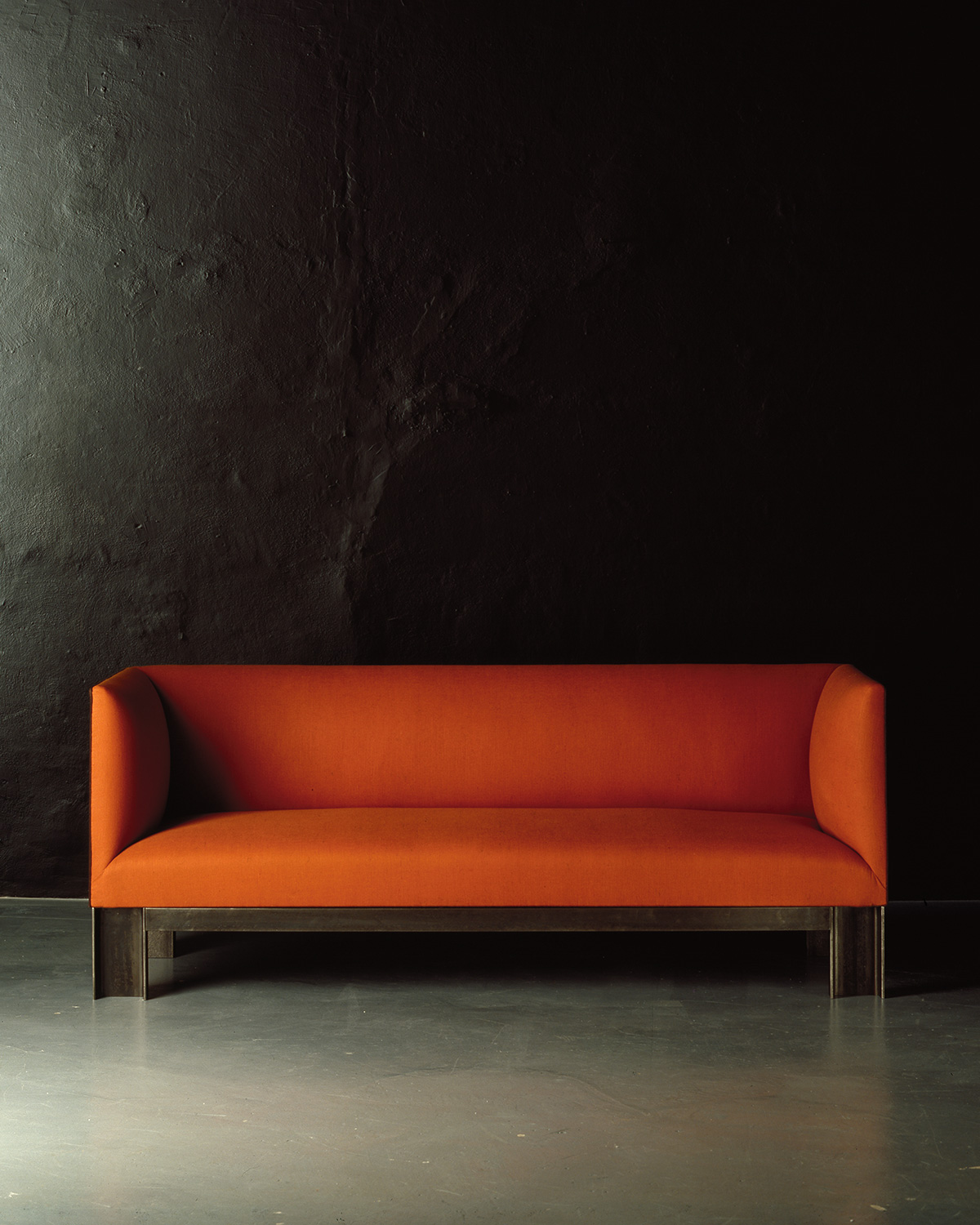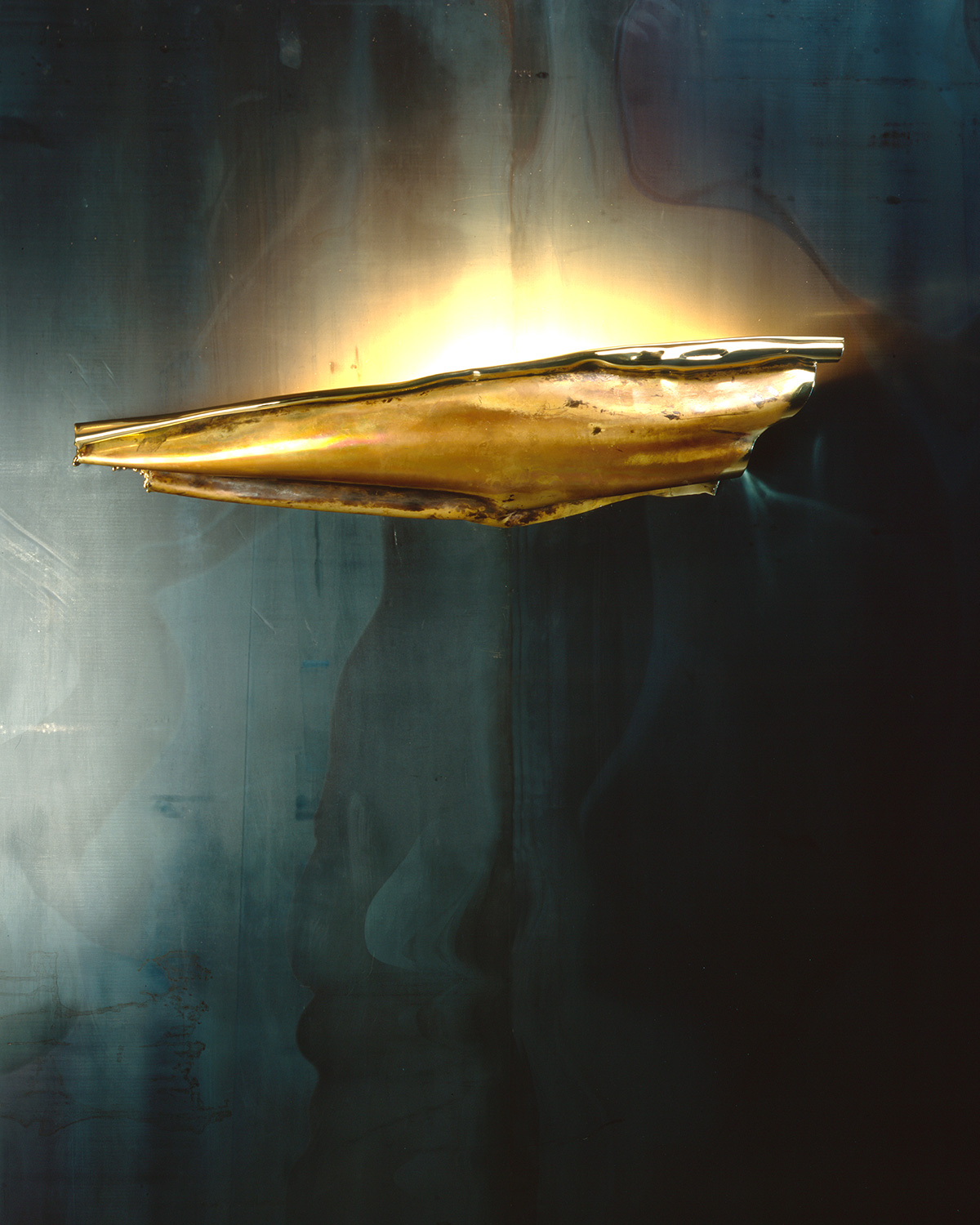 THIS SOFA WITH IRON FEET WAS COMMISSIONED BY A JAZZ MUSICIAN FOR HIS MINIMALLY FURNISHED, ARCHITECT-DESIGNED HOUSE. IT FEATURES AN ASCETIC CANVAS AND IRON DESIGN.
THIS FIRE-FORMED BRASS APPLIQUÉ IS AROUND ONE METRE WIDE AND POLISHED ON THE INSIDE, WHILE THE OUTSIDE BEARS THE RAW MARKS LEFT BY THE FLAME IT WAS SHAPED IN. INNOVATIVE SCHMID&STEMMANN CRAFTSMANSHIP.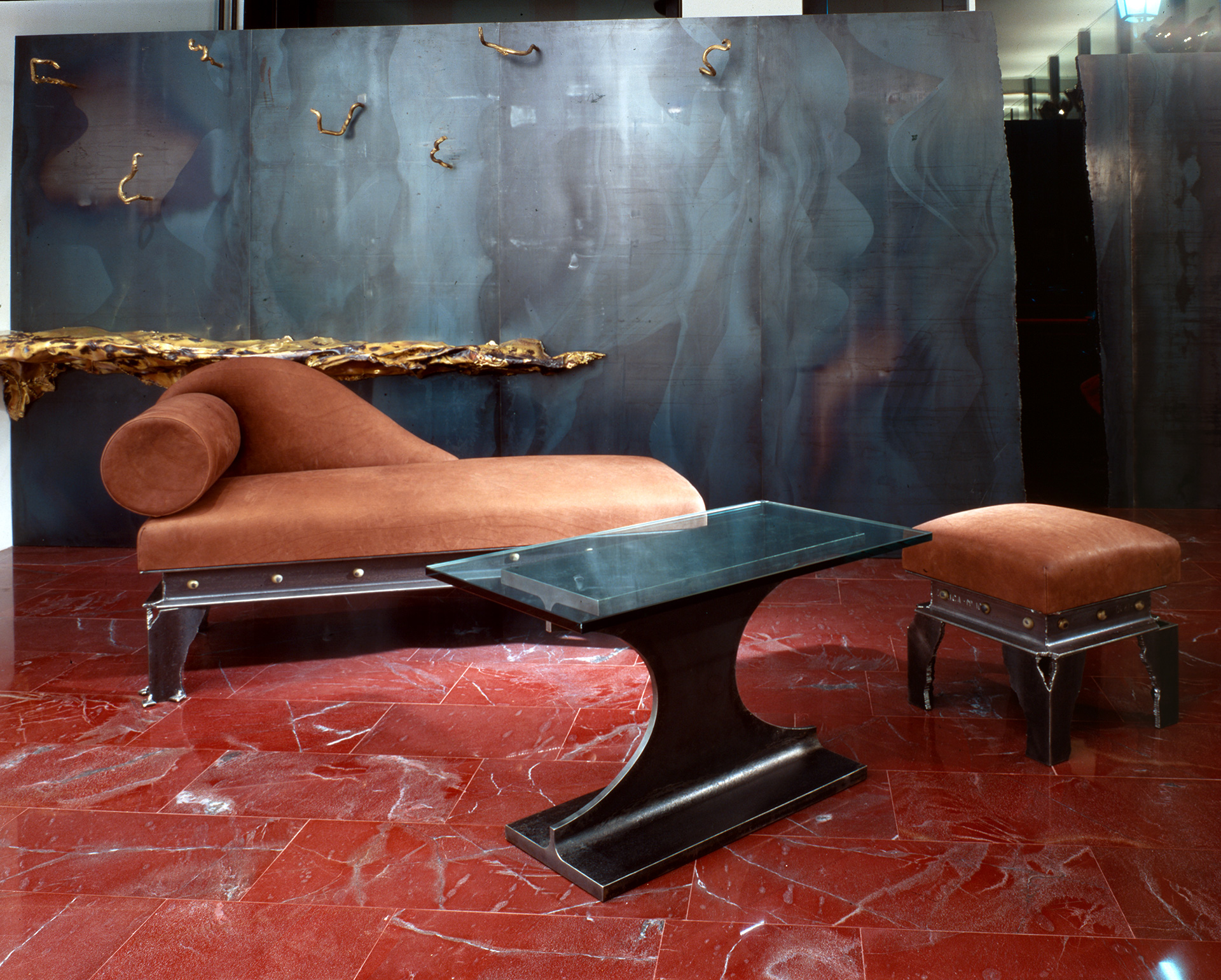 THE FIVE-CENTIMETRE-THICK DIVIDING WALL BETWEEN THE DISPLAY WINDOW AND ENTRANCE OF THIS FASHION HOUSE ON MUNICH'S MAXIMILIANSTRASSE FEATURES A SUBDUED, SMOKY DESIGN.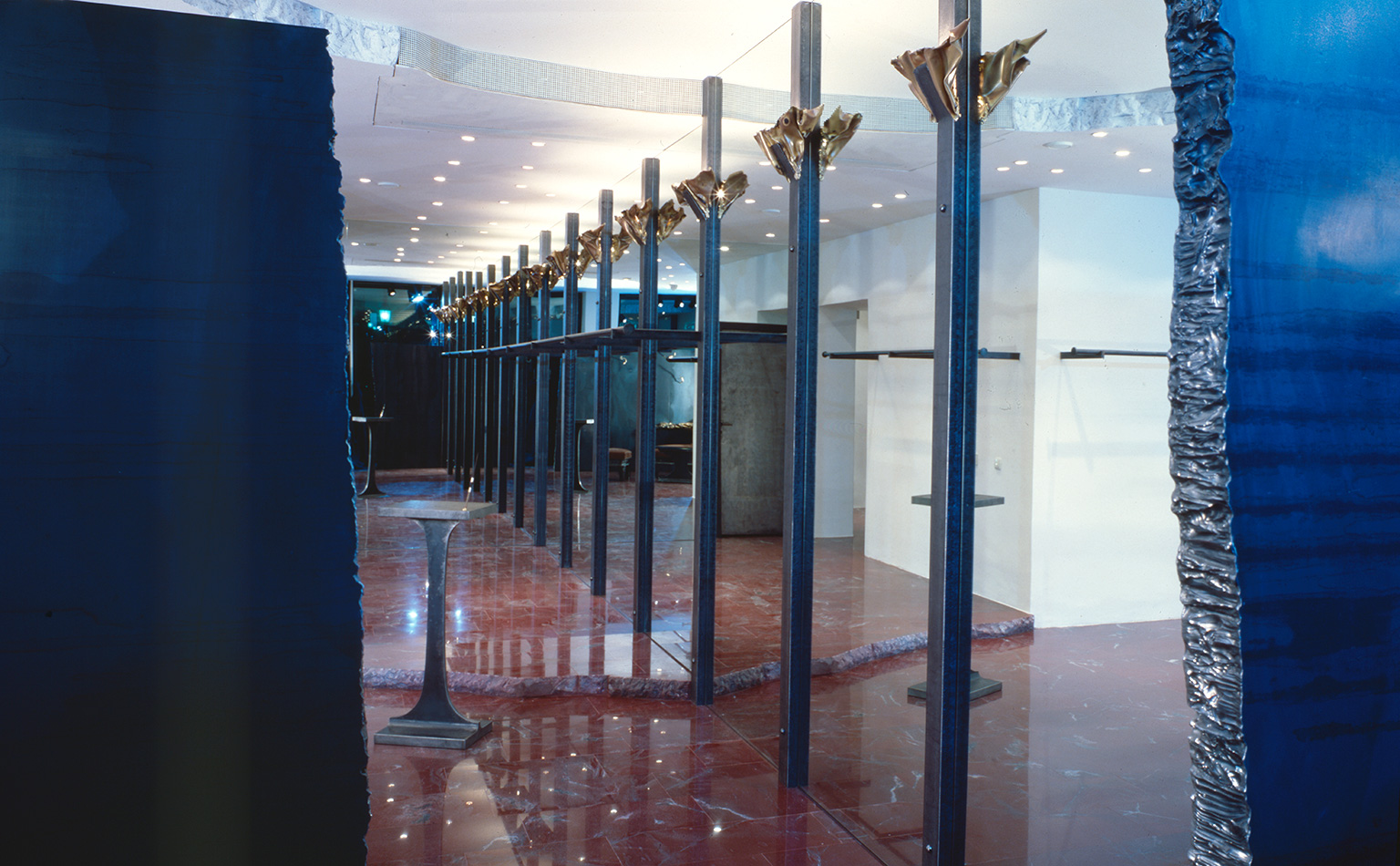 CUSTOMERS WALK INTO THE SHOWROOM OVER TURKISH MARBLE THROUGH A GAP IN THIS IRON CURTAIN, DIVIDED BY A WELDING TORCH. ON THE OTHER SIDE, THEY ENCOUNTER AN AMBIENCE THAT TAKES THEM BACK TO THE TIME OF THE ROMAN EMPEROR WHO ENJOYED PLAYING WITH FIRE.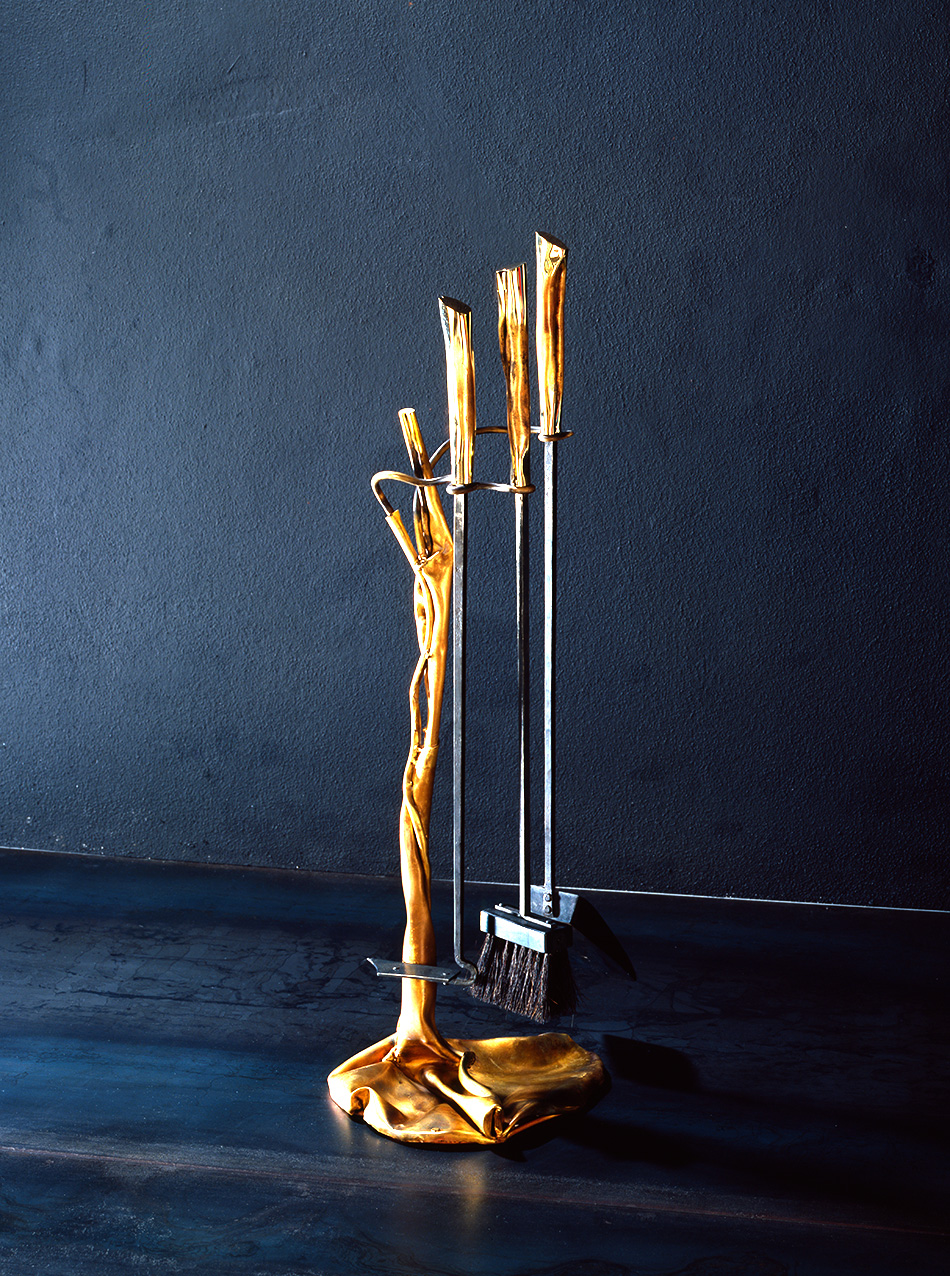 IN THE EARLY EIGHTIES, DESIGNERS, ARTISTS, ARTISANS AND OTHER CREATORS BROKE FREE OF THE CHAINS OF CONVENTIONAL PRODUCT DESIGN AND BEGAN TO DESIGN AVANT-GARDE FURNITURE.
WORKS BY SCHMID & STEMMANN APPEARED IN JOINT EXHIBITIONS HELD IN THE "MUSEUM FÜR KUNST UND GEWERBE" IN HAMBURG, THE "KUNSTMUSEUM DÜSSELDORF", AND OTHER LOCATIONS IN THE EARLY TO MID-EIGHTIES, ALONGSIDE PIECES FROM AVANT-GARDE STUDIOS SUCH AS STUDIO ALCHIMIA, MEMPHIS, JASPER MORRISON AND BELLEFAST.
SCHMID & STEMMANN WERE COMPARED TO THE AVANT GARDE MOVEMENT BY MANY MEDIA OUTLETS (ARD, BRD, DER SPIEGEL, STERN, HARPER'S BAZAAR, WORLD INTERIOR DESIGN /JAPAN AND VOGUE). BUT SCHMID & STEMMANN FELT THAT THEIR ARTISTIC MISSION WAS DIFFERENT.
FOR THEM, THE CLAIM OF BEING AVANT-GARDE WAS MERELY THE FIRST STEP IN THEIR ATTEMPT TO EXPRESS THEIR INTUITION VIA THE PERFECT MASTERY OF THEIR CRAFT. THEIR WORK HAD A CLEAR EMPHASIS. WHAT THEY CREATED WAS GENUINELY NEW. THEY BROUGHT BACK THE INHERENT BEAUTY OF THE MATERIALS THEY USED. SCHMID&STEMMANN WORKED WITH ARTISANAL PERFECTION, IN THE SPIRIT OF THE WORKSHOPS OF VIENNA. IN THE EIGHTIES, THEY CREATED THEIR "ANTIQUES OF THE DAY AFTER TOMORROW".
THIS FIRE-FORMED SET OF BRASS FIRESIDE TOOLS IS REMINISCENT OF THE MASTERPIECES OF BARCELONA'S ANTONIO GAUDÍ. THIS UNIQUE ITEM, TOGETHER WITH OTHER WORKS, BELONGS TO THE COLLECTION OF A SCHMID&STEMMANN PATRON IN MUNICH.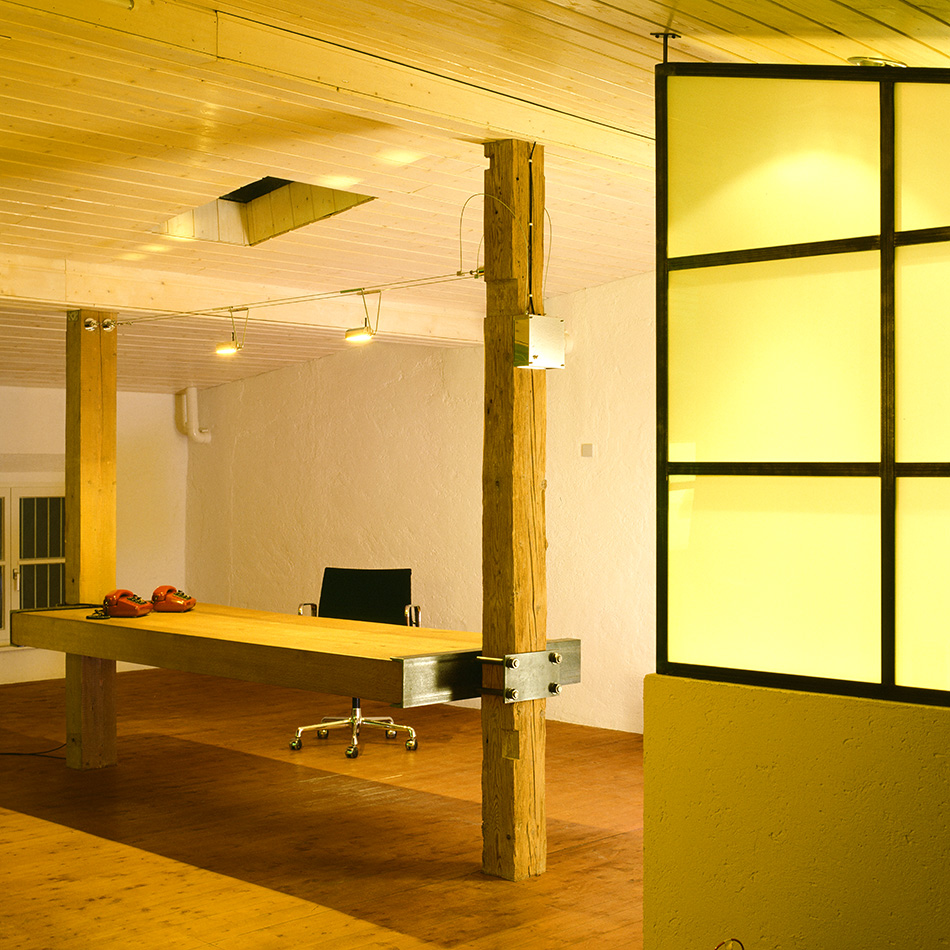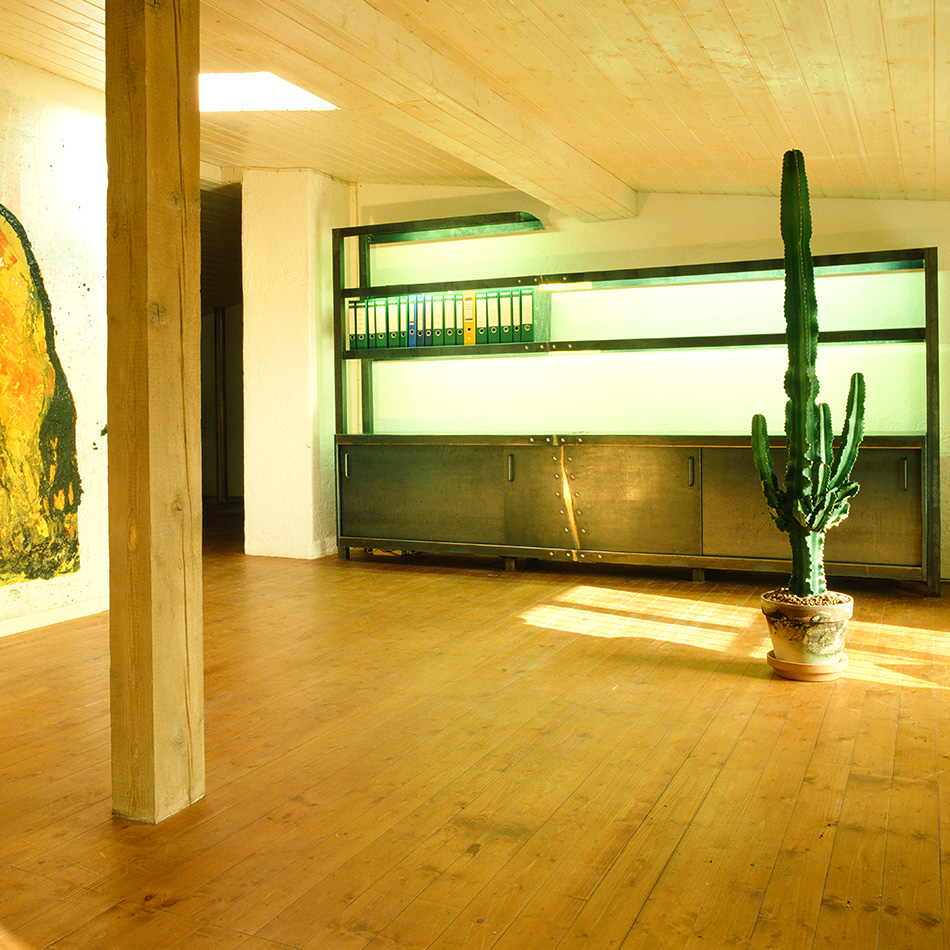 1986
ONE CLIENT ON THE MAXIMILIANSTRASSE, MUNICH'S EXCLUSIVE SHOPPING BOULEVARD, PREFERRED NOT TO DEMONSTRATE HIS WEALTH, BUT INSTEAD TO MAKE AN INSPIRING WORKPLACE FOR HIMSELF IN HIS LARGE OFFICE.

THE MINIMALIST, RENOVATED ATTIC WITH KITCHENETTE AND BATHROOM WAS FURNISHED WITH AN EXPRESSIVE COMBINATION OF IRON, OAK AND GLASS.
TO ENABLE IT TO BE TRANSPORTED, THE LARGE IRON CABINET HAD TO BE CUT INTO PIECES WITH A WELDING TORCH BEFORE DELIVERY. ONCE AT ITS DESTINATION, IT WAS THEN REASSEMBLED USING CARRIAGE BOLTS. HIGH-QUALITY PAINTINGS FROM "JOSÉ MARIA SIZILIA" AND "JEAN-MICHEL BASQUIAT" BRING THE FINAL TOUCHES TO THE OFFICE OF THE SUCCESSFUL BUSINESSMAN AND ART COLLECTOR.
MATERIAL COLLAGES MADE OF RECYCLED FOUND OBJECTS ALWAYS MAKE FOR EXCITING WORK. IN THE EARLY EIGHTIES, EL SCHMID WORKED WITH THE "ARTE POVERA" STYLE IN CRISTÓBAL PORRAS'S WORKSHOP IN SEVILLE. HERE HE CREATED THE OBJECTS "DER WUNDERPFEIFER", "SABA" AND "EL CRISTO DEL GRAN PODER".
LIKE ALMOST ALL OF THESE OBJECTS, "DER STIER MIT GOLDENEN HÖRNERN" BELONGS TO A COLLECTOR OF SCHMID & STEMMANN WORKS.