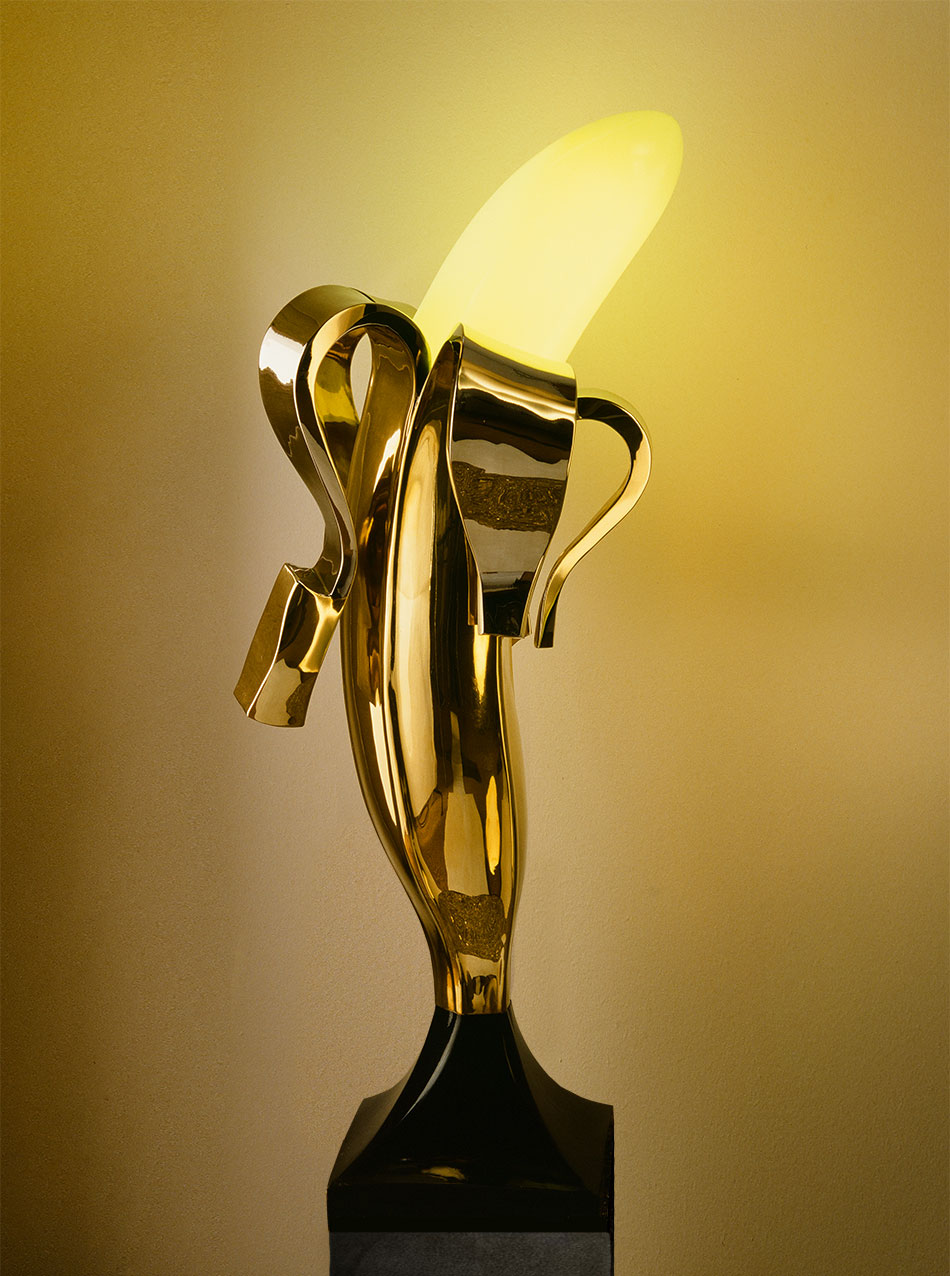 1981
DIE BANANE – THE MASTERPIECE
Without Alfred Hisch's old tools, a piece like this would simply have been impossible to make – his esteemed old colleague Max Pippig was the last master chaser in Munich at the time.
The 110 cm tall banana was made from 1.5 mm thick sheet brass. This was wrought with a hammer, soldered with silver on both sides, filed, sanded and finally polished by the brilliant polisher Hans Sandmeyer.
The inside of the banana peel is nickel-plated. The base is carved from glue-laminated, black lacquered hardwood.
The tools that EL Schmid used to give the banana its form dated back to when the workshop, then owned by Alfred Hirsch's father, was used to realise the architect Albert Speer's designs for the Reich Chancellery (Reichskanzlei).
Amongst other things, the production of chandeliers was ordered. But when the chandeliers for the Reich Chancellery were ready, shortly before the end of the war, they were melted down and made into cartridge tips… Hopefully the banana will be spared such a fate!
Der Beruf des Gürtlers gehört in den Bereich der Bearbeitung von Eisen-, Blech- und Nichteisenmetallwaren und ist eher kunsthandwerklich ausgerichtet.  Die heutige Bezeichnung lautet Metallbildner. Gürtler bearbeiten und verformen Metalle zur Herstellung von Gebrauchs- und Schmuckgegenständen. 
Der Beruf des Ziseleurs – ziselieren ist eine sehr alte Technik, die bereits die frühen Hochkulturen aus der Inkazeit (Bronzezeit) benutzten, um kostbare plastische Schmuckstücke herzustellen. Quer durch alle Kulturepochen haben Schmuckschaffende diese zeitaufwändige Technik angewendet. Bereits im Altertum war diese Technik der Metallbearbeitung bekannt. In altägyptischer Zeit wurden hervorragende Werke der Treibtechnik aus Silber, Gold und Bronze geschaffen, die z. B. als Grabbeigaben erhalten geblieben sind.